Product Description
High sop up resin is a macromolecule materials which can sop up a great lot of water. It is innocuous and can sop up water and release water time after time, so in agriculture people called it mini-reservoir. Meanwhile, it can also absorb fertilizers, pesticides and release them slowly, swell the efficacy of them. High sop up resin is widely used in agriculture, forestry, gardening, construction materials.
It is also widely used in industries as petrochemicals, cables, paper, sensors, fire fighting equipment, fiber products, cosmetics, food preservation and water-inflatable toys. In medical treatment it can also be widely used in sanitary napkins, infant disposable diapers, adult incontinence pads, health and its ice cap, ice mats, cloth vampire medicine and other fields.

Product characteristics:
1. Nontoxic. Safety and environment friendly, non-toxic and tasteless, non-polluting to plants, soil and groundwater, flowers and fruit trees, reforestation, soilless cultivation of plants refrigerated transportation and other field crops.
2. Save water.
3. Improve soil structure.
4. Long life of use.
5. High speed of absorbing.
6. High utilization rate of water fertilizer.
7. The root can not putrefied when absorb enough water.
8. Function stability. Even though in the extreme dry region, the root will not decompose
20-40mesh Specification sheet:
TEST ITEM

 TYPE

UNIT

LD30

APPEARANCE 

 

White granular

Less than 5 impurities/50g

FREE ABSORBENCY FOR  DISTILLED  WATER

g/g

More than 500

FREE  ABSORBENCY

g/g

More than 50

RETENSION CAPACITY

g/g

More than 45

ABSORBENCY  UNDER 

PRESSURE (0.3PSI)

g/g

More than 30

ABSORBING RATE

(25 times)

sec

Less than 60

Moisture content

%

Less than 7

PH

 

6.5~7.5

PARTICLE SIZE

DISTRIBUTION

 

4 mesh sizes are available, 6~10mesh, 10~20mesh, 20~40mesh, 40~100mesh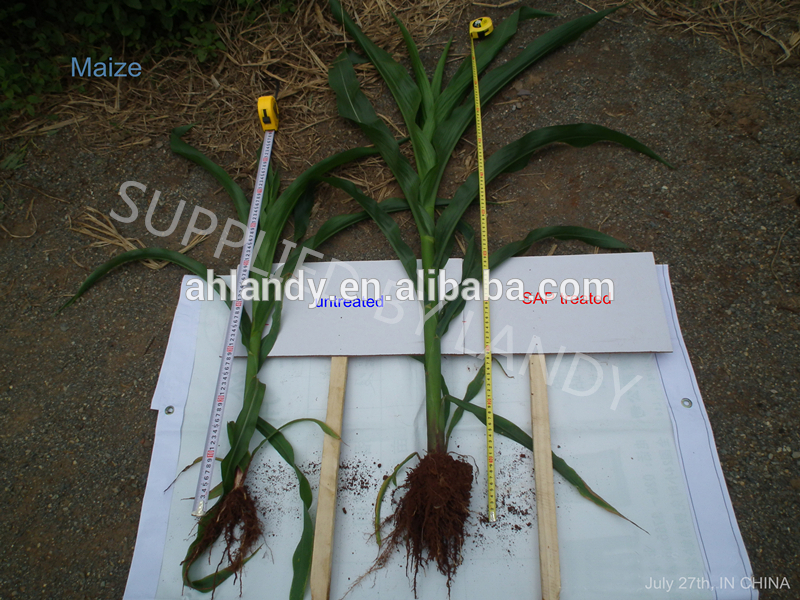 Product Categories : Chemicals > Agriculture SAP